November 17, 2023 at 11:45 p.m.
JCHS girls basketball
Suffocating defense
Patriots' offense gets choked off as they fall to 2-2 on the season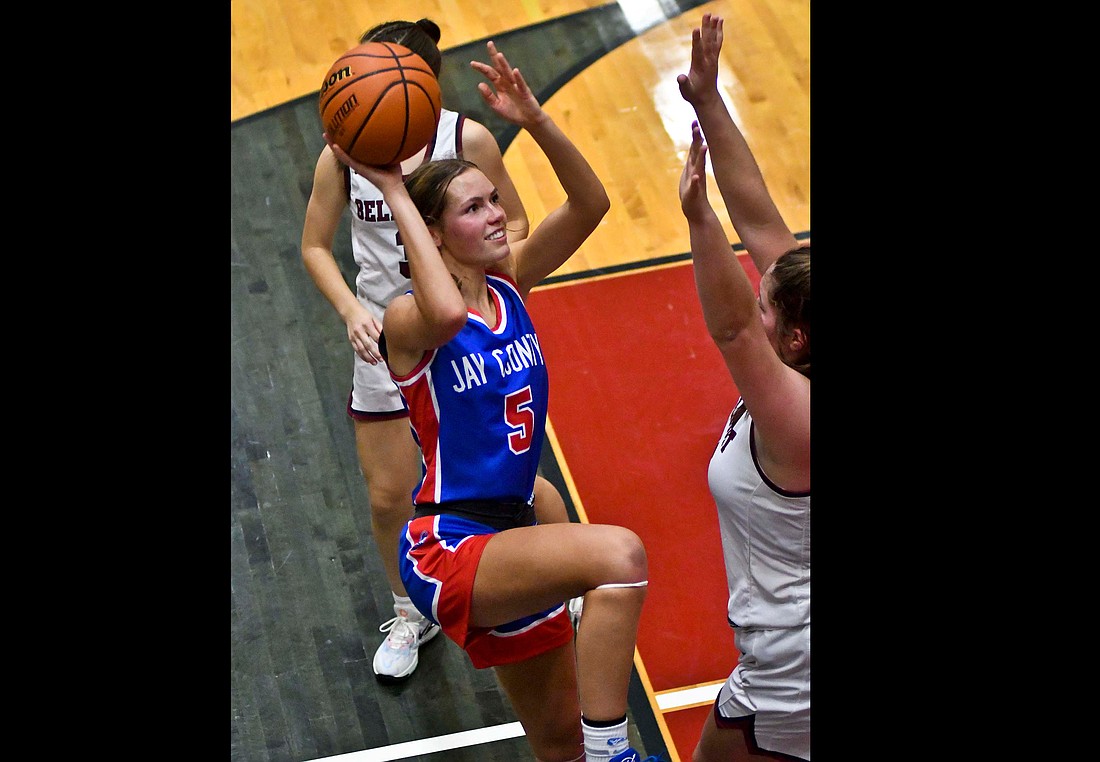 ---
DECATUR — Hallie Schwieterman was the leading scorer for the first three games of the year.
The Braves came in looking to shut her down.
Only allowing one of her teammates to hit double figures was just icing on the cake.
The Bellmont Braves' defense suffocated the Jay County High School girls basketball team, allowing less than 10 points per quarter as they handed the Patriots a 50-33 defeat Friday night.
"I just was real disappointed on our start," JCHS coach Sherri McIntire said. "Obviously I think Bellmont's a good, solid team, but I don't think we had our best performance tonight either."
The Braves (3-1) jumped all over the Patriots (2-2) early in the first quarter. Bellmont put together a 9-0 run between the five-minute mark until the last few minutes of the period when Cassie Petro got a layup off of a weak side cut and an assist from Breanna Dirksen.
Throughout the first quarter, Bellmont coach Andy Heim was yelling at his players to pay attention to Schwieterman and not allow her to get a clean look from the 3-point line. Heim knew the Braves' 2-3 zone defense was susceptible to good 3-point shooters and wanted to take the freshman out of the game.
"I'd like to take a whole bunch of credit like we're doing something special, but keying on (Molly Muhlenkamp) and Schwieterman is what did it," Heim said. "We knew they were their 3-point shooters and that plays into us being a zone team so we can leave some of those other people a little bit more open and really just focus on those two."
Schwieterman was held to eight points, four of which came from free throws, while Muhlenkamp scored 12 thanks to a pair of baskets in both the second and fourth quarters.
The defense stopped Jay County from getting too many looks from beyond the arc, and it took until the fourth quarter for one to fall, when Muhlenkamp hit a pair.
Muhlenkamp was the team's leading scorer, but no one else could get going offensively. The only other players to score were Sophie Saxman and Dirksen with five points each and Petro with three.
"We just didn't have a spark tonight," McIntire said. "Nobody came in and gave us a spark. We didn't even have a spark from our starters."
The Braves didn't have that problem.
Hailey Cole dominated the offensive end, scoring 19 points. The Braves' ball movement forced the back side of the Patriots' 1-2-2 zone to rotate enough where they were able to get little in passes for the center to go one-on-one with her back to the basket and score.
"She's strong as crap and she's going to get those on her own," Heim said. "We like to play in-to-out which helps the shooters out, helps all that. So that was our goal."
Cole also had a pair of assists.
Jay County gave up seven 3-pointers in the game as well while struggling to defend Cole in the paint, forcing McIntire to make a decision on trying to swarm the paint or stay home on shooters.
"Our 'Zorro' defense obviously didn't do what it needed to do because we had to end up going in to man and that's not our strength," McIntire said. "Zorro should be our strength, but we just kept getting caught behind screens and they shot the ball extremely well."
After the slow start, the Patriots were able to find some rhythm in the second quarter. Along with Muhlenkamp's two buckets, Schwieterman and Saxman put the ball through once and the Patriots hit four free throws, including two from Dirksen after a technical foul was called on the Bellmont bench, to trail 24-16 at the half.
"I don't know what was causing the slow start," McIntire said. "I would just say we weren't mentally focused and ready to go, and that surprises me because I felt like that's the first time that we've come out so not ready to go. The second quarter obviously was our best quarter. I felt like we were making strides."
The Patriots will look to bounce back tonight when they travel to Winchester.
"We've just got to move on," McIntire said. "We play Winchester tomorrow and I obviously feel like we need to go down there … be ready to go from the get go. So be mentally focused."
Junior varsity
The Jay County junior varsity team's fourth-quarter comeback earned it a 32-27 victory over Bellmont in three quarters Friday.
Alexis Sibray gave the Patriots (2-2) the lead with 36 seconds left in the game on a fast break where she was still in the front court putting on a shoe that came off the previous play.
Meredith Dirksen scored a team-high 11 points. Raylah Newton followed with 10.
Kady Allred scored back-to-back baskets in the third quarter to tie the game. The freshman finished with four points.
Chaylee Melton cracked the scoring column for the first time this year with one point off of a free throw.
Bellmont Braves vs.
Jay County Patriots

Girls varsity summary

Jay County (2-2)
FG-FGAFT-FTAPTS
Muhlenkmp5-110-212
Saxman2-71-55
Schwietrmn2-54-48
MDirksen0-20-00
Sibray0-00-00
Denton0-10-00
Petro1-41-23
BDirksen1-43-45
May0-10-00
Newton0-00-00
Totals11-359-1733
.314.529
Def. rebound percentage: .615

Bellmont (3-1)
FG-FGAFT-FTAPTS
Kitson0-10-00
Garner0-00-00
Franze0-10-00
Bleke3-71-17
BLaurent3-50-09
Jarvis2-92-27
French3-90-08
GLaurent0-20-00
Cole7-104-519
Totals18-447-850
.409.875
Def. rebound percentage: .708
Score by quarters:
Jay Co.412710—33
Bellmont1681511—50

3-point shooting: Jay County 2-12 (Muhlenkamp 2-5, BDirksen 0-1, May 0-1, MDirksen 0-2, Schwieterman 0-3). Bellmont 7-16 (BLaurent 3-3, French 2-3, Cole 1-1, Jarvis 1-5, Kitson 0-1, Bleke 0-3).

Rebounds: Jay County 22 (Muhlenkamp 6, Saxman 6, Schwieterman 4, MDirksen 2, BDirksen 2, Petro 1, May 1). Bellmont 24 (Bleke 7, Cole 5, Jarvis 4, Kitson 2, BLaurent 2, GLaurent 2, Franze 1, French 1).

Assists: Jay County 7 (BDirksen 3, Schwieterman 2, Denton 2). Bellmont 11 (Bleke 4, GLaurent 4, Cole 2, French 1).

Blocks: Jay County 3 (Muhlenkamp 1, Petro 1, MDirksen 1). Bellmon 1 (Cole 1).

Personal fouls: Jay County 14 (Muhlenkamp 3, Saxman 3, Schwieterman 3, BDirksen 3, Sibray 2). Bellmont 18 (Jarvis 5, Garner 3, Cole 3, Kitson 2, French 2, GLaurent 2).

Turnovers: Jay County 17. Bellmont 12.