October 4, 2019 at 1:47 a.m.
Doubles does it
Sheldon Upp and Gavin Myers advance but Jay County drops sectional final to Winchester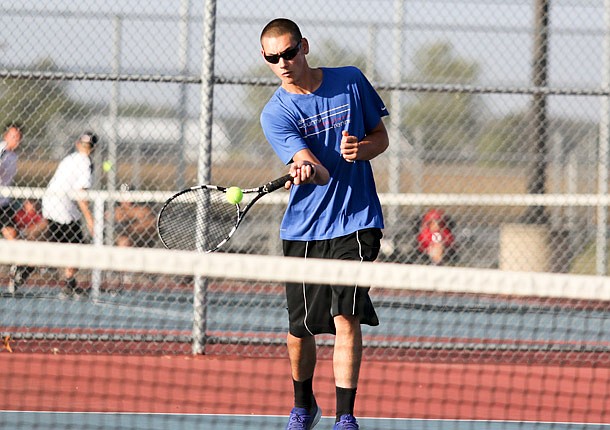 ---
Copyright 2019, The Commercial Review

All Rights ReservedSheldon Upp tracked back to the baseline with his eye on the ball.

He watched it sail long and showed a little smile.

Gavin Myers relaxed and walked toward his camp at the side of the net.

The lack of emotion spoke little to the meaning of the moment.

The match was over, yes. But their season was not.

Doubles did it.

Upp and Myers teamed for a win at No. 1 doubles to keep their year alive but the host Jay County High School boys tennis team fell to the Winchester Golden Falcons 4-1 on Thursday in the sectional championship.

Winchester, which successfully defended its title from a year ago, advances to the regional Tuesday at Marion.

Upp and Myers now move on as a doubles team and their sectional tournament will be played concurrently with the team regional at Marion. An opponent will be determined at a later date.

(Only the No. 1 singles and No. 1 doubles are able to advance past team sectional as long as they remain undefeated, regardless of the overall team result.)

"It's fantastic," JCHS coach Scott Miller said of his top pair moving on. "It's great for them. It's great for our team. It's great for Jay County tennis …

"It means a lot that they won."

When their three-set match was over, Upp said he only showed a mini smile as a sign of fatigue and relief. It was much different from his pre-match nerves.

Myers, on the other hand, was emotionless because he knew he had more work to do.

"We're not done yet," he said. "We have another one to win."

After claiming the first set 6-3, Upp and Myers found themselves in a big hole in the second set, 5-2. Miller said it was a result Winchester's Grant Wagner and Levi Slusher changing their game to counteract the Patriots' net play.

But Upp and Myers found their groove again — Upp handling most things at the net while Myers ran the baseline — and won the next three games to tie it at five-all.

Winchester, however, managed to win the next two games to force a third set.

Upp and Myers cruised from there, taking the third 6-1 to remain unbeaten in the postseason.

"I felt whenever I would hit the ball really hard and it would go over the fence that it would get in their head so I just kept doing it," Upp said of how they were able to handle the final set so easily.

Myers added: "Just trying to get in their head a lot, make plays (and) hit the ball where they weren't."

Hoping to keep his season alive as well after the overall team defeat had been decided, JCHS sophomore Crosby Heniser found himself in a battle with Alex Pegg at No. 1 singles.

Pegg won the first set 6-3, and Heniser was ahead 4-3 in set two. Heniser disagreed with some of the line calls Pegg was making, so he asked Winchester coach Derek Baker and Miller to intervene as secondary judges to confirm calls.

Heniser won the next three games to force a third set, only to have his season come to an end with a 6-1 setback in the third set as a result of a few too many unforced errors.

But it was the move in the middle set that stood out the most to Miller.

"The great thing about seeing Crosby fighting the way that he fought and dealing with the adversity that he had to deal with in that match is it is one more experience for him," he said. "I was so proud of him when he stepped up and asked for a line judge … for him to advocate for himself on the court like that, that's a mature move on his part."

Jay County senior Christian Romero had a 5-4 lead in set one against Ross Culy at No. 3 singles but couldn't hold it in a 7-5, 6-1 defeat. Simon Dirksen fell to Nick Dunica at No. 2 singles 6-1, 6-0 while Frankie Crump and Darius Esparza lost to Drew Loyd and Beman Welch at No. 2 doubles 7-5, 6-4.